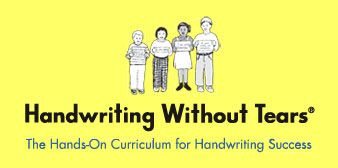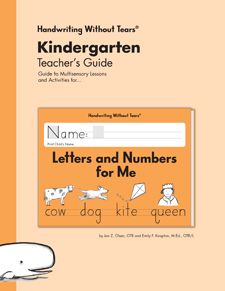 Our new teacher's guides give you the latest resources and strategies for teaching handwriting in only 15 minutes per day.
Product Description from HWT:
This workbook is for kindergarten students or those working at that level. Lessons teach numbers, capitals, and lowercase letters. Activities form good handwriting habits and develop strong writers.
Turbo seriously struggles with his writing. I have been pretty desperate to find a program that he would enjoy and more importantly, would WANT to do his handwriting. What I love about Handwriting Without Tears is its not all about worksheet pages. We also integrated in our whiteboard to learn our letters and proper letter structure. We were lucky to also have Letter Construction tools to go with Handwriting Without Tears.

As I mentioned, I have been struggling with getting T to do handwriting. He hates the monotony of most workbooks that make a child write the same letter over and over again, page after page. Once he has something, he's ready to move on. Handwriting Without Tears was to the point and T thoroughly enjoyed the work. We have made made it through several letters with minimal crying and frustration, and that's just me;)



Thankfully, T has used this program three times a week and still enjoys it! That is a major score in my book. I highly recommend Handwriting Without Tears to anyone who has a learner that is more hands on!
Click to read more reviews from The Schoolhouse Review Crew.

Disclaimer: I received a free copy of this product through the Schoolhouse Review Crew in exchange for
my honest review. I was not required to write a positive review nor was I compensated in any other way.
All opinions I have expressed are my own or those of my family. I am disclosing this in accordance with
the FTC Regulations
Like my Facebook Page
Follow Me on Twitter
Check out my Pinterest Boards